Image Carousel with 14 slides
A carousel is a rotating set of images. Use the previous and next buttons to change the displayed slide
Slide 1: Cake with text, "Happy Thesis!"

Slide 2: 2020 Zoom Meeting

Slide 3: A presentation from the 2018 symposium.

Slide 4: Professor Fennell and Professor Abu-Lughod

Slide 5: Professor Fennell and a student from the 2018 symposium.

Slide 6: A presentation from the 2018 symposium.

Slide 7: A presentation from the 2018 symposium.

Slide 8: A presentation from the 2018 symposium.

Slide 9: A presentation from the 2018 symposium.

Slide 10: The 2018 cohort

Slide 11: The 2018 cohort

Slide 12: The 2017 cohort

Slide 13: The 2017 cohort

Slide 14: The 2017 cohort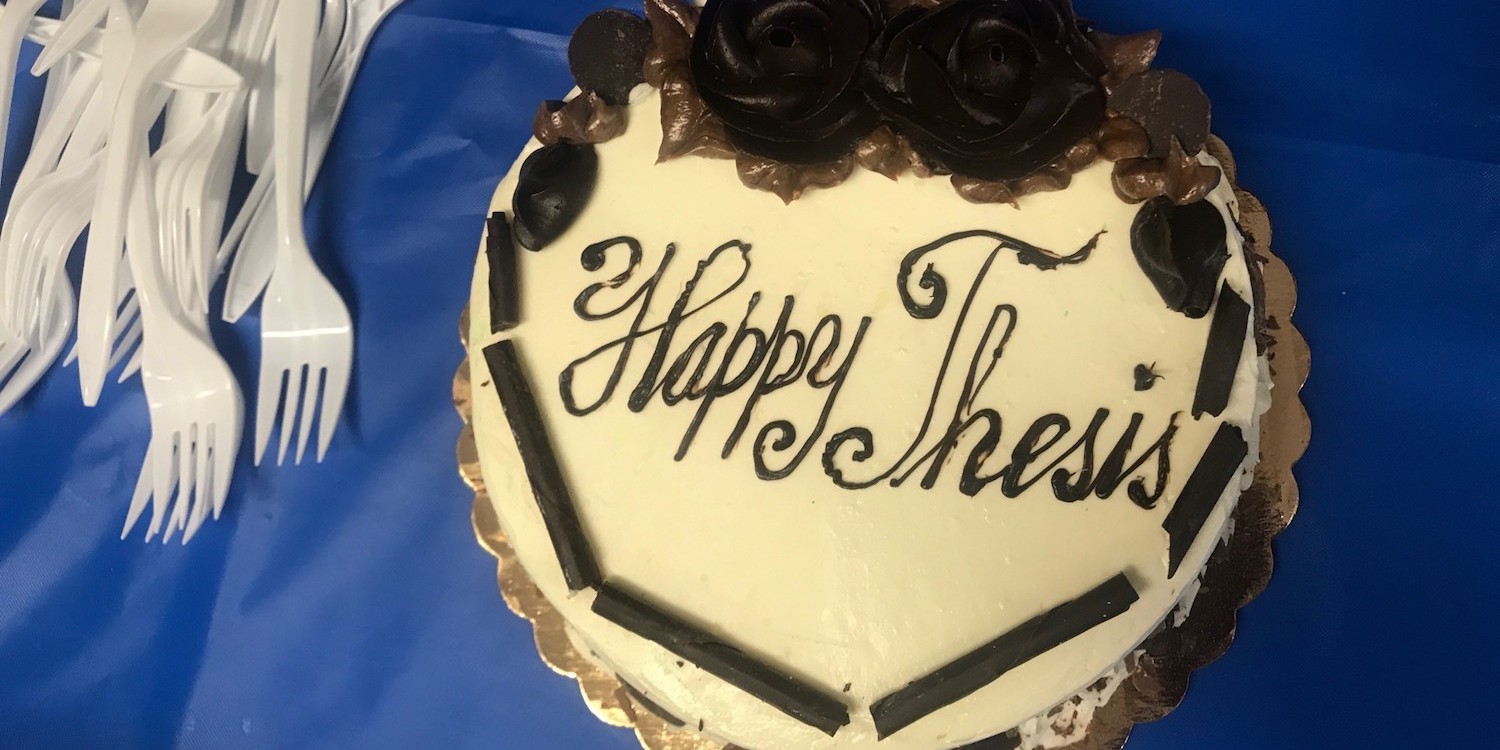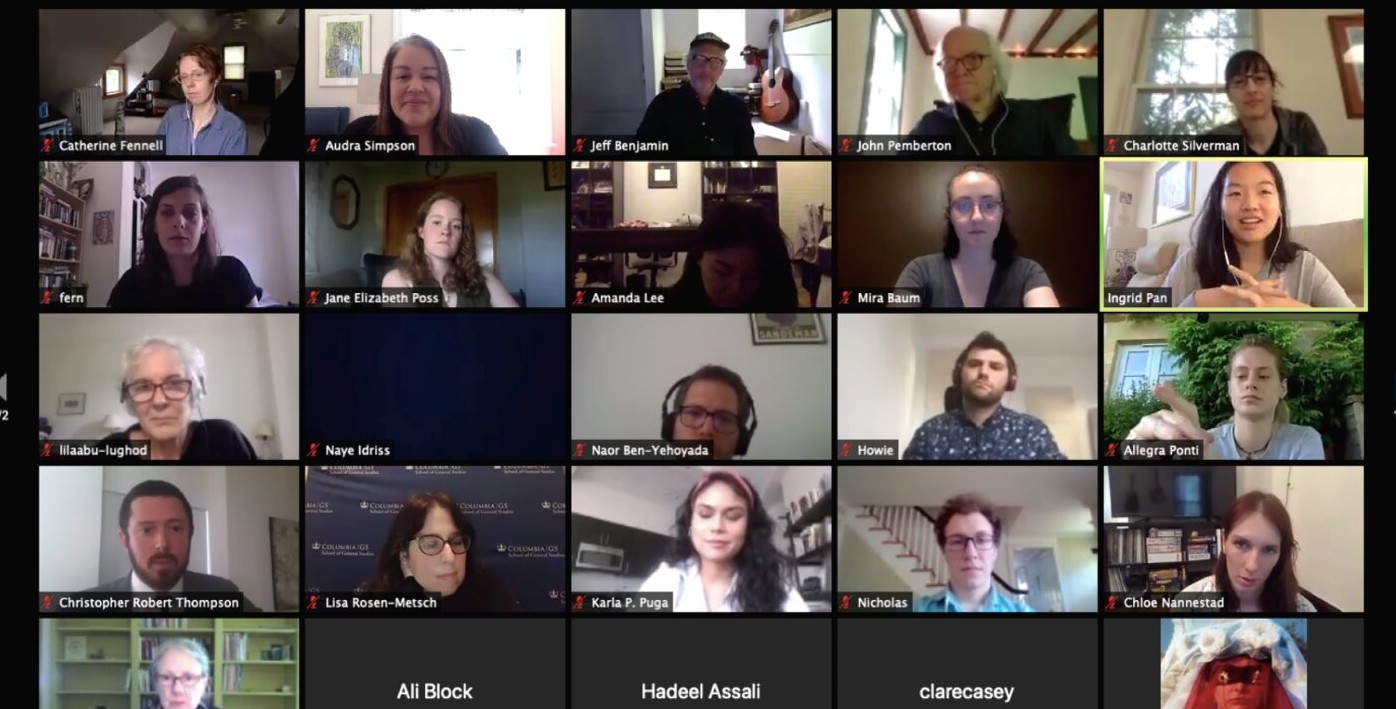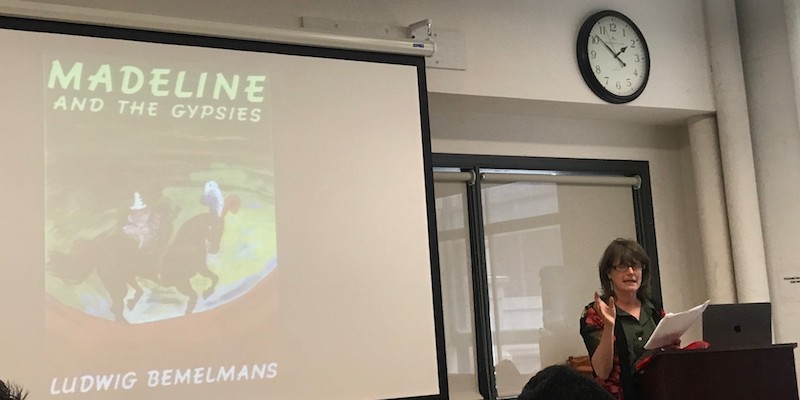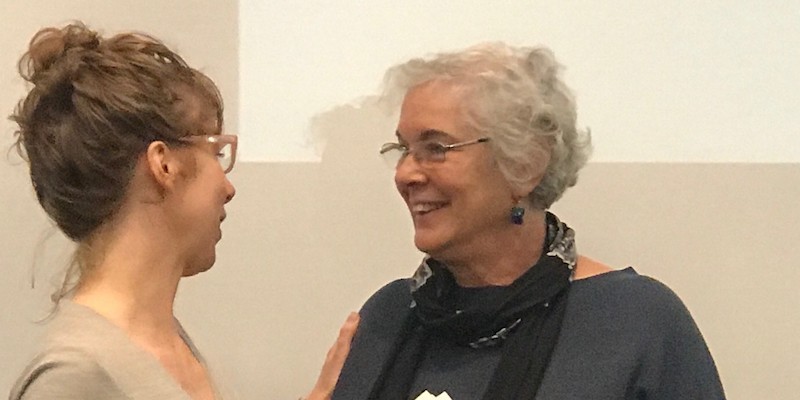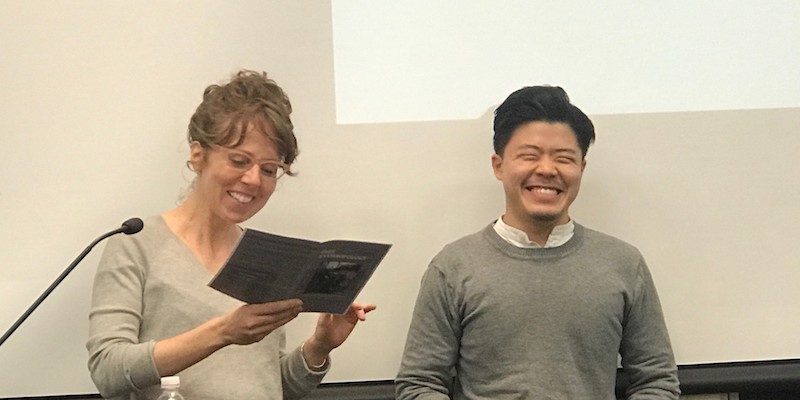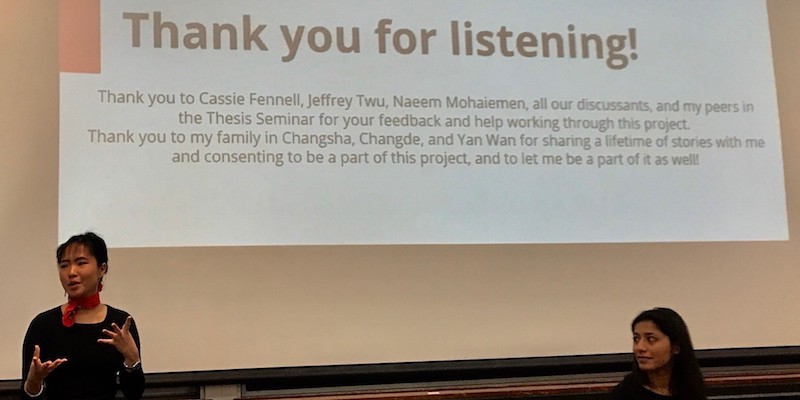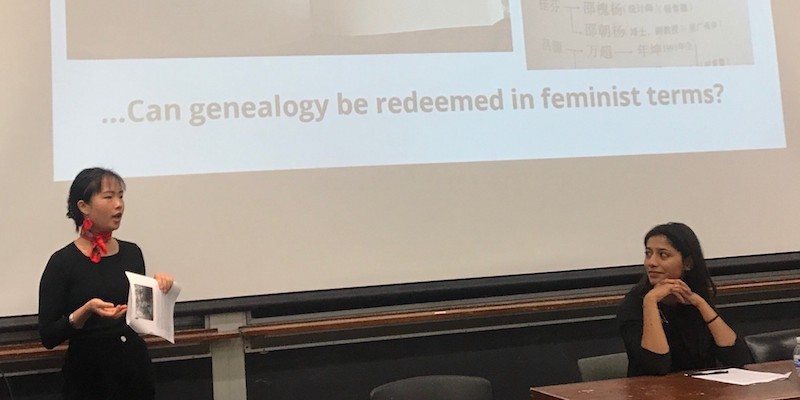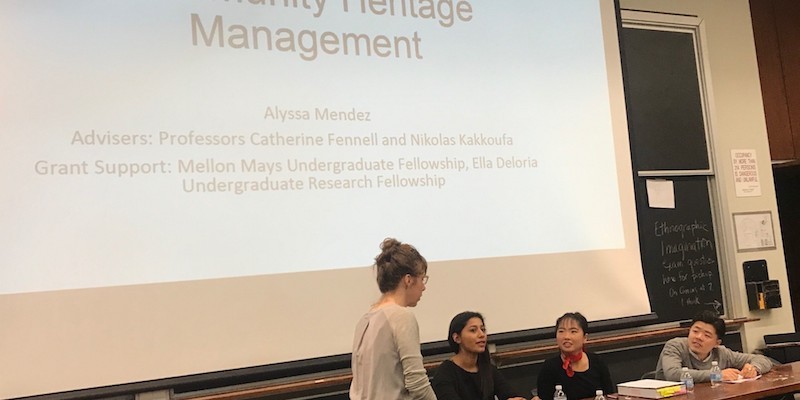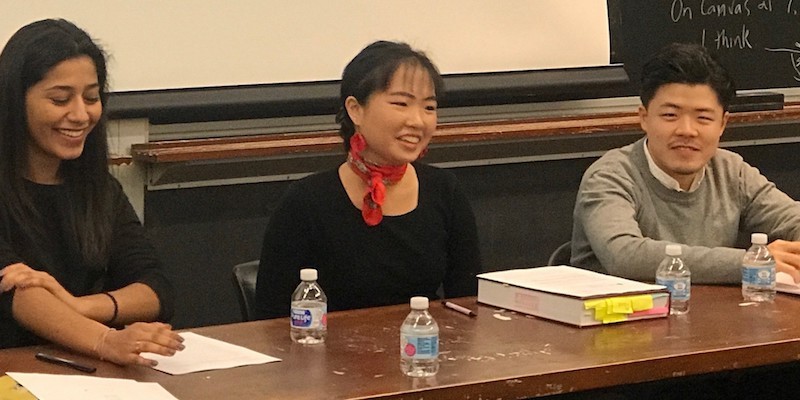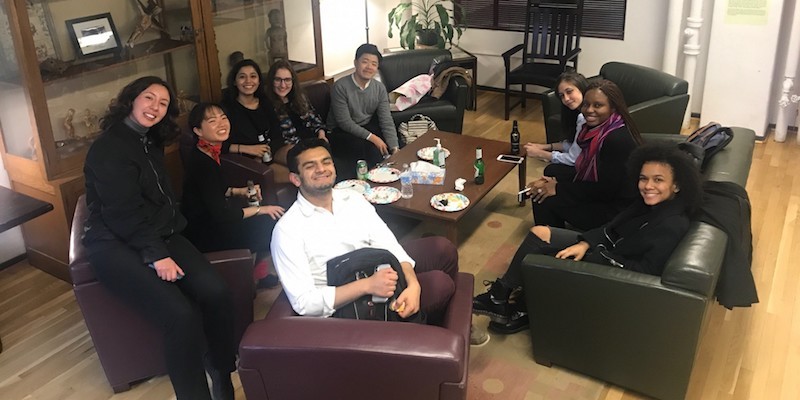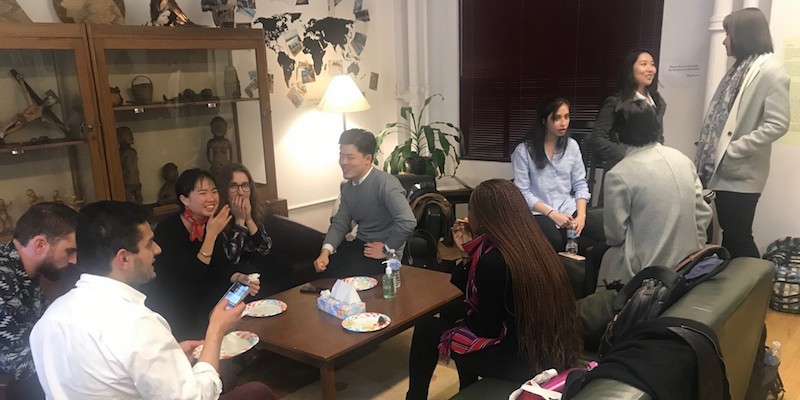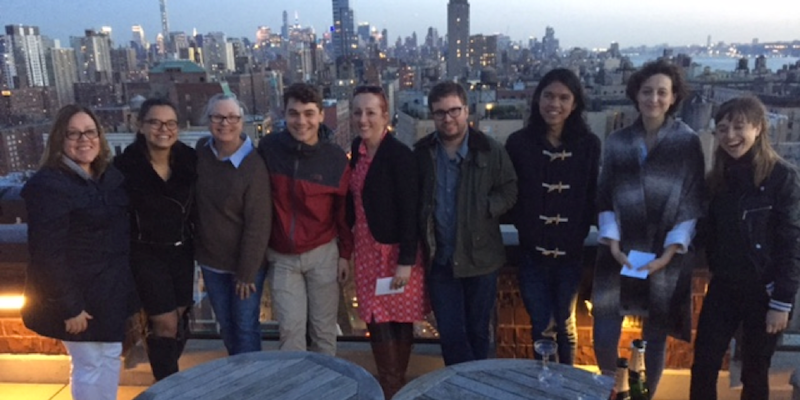 Previous
Next
Through the Years
2019–2020
Instructors: Lila Abu-Lughod (Fall 2019) and Catherine Fennel (Spring 2020)
This two-term course is a combination of a seminar and a workshop that will help students conduct research for, write, and present an original senior thesis in anthropology. The first term of this course introduces a variety of approaches used to produce anthropological knowledge and writing. This beginning encourages students to think critically about the approaches they take to researching and writing by studying model texts with an eye to the ethics, constraints, and potentials of anthropological research and writing, and gives students practice in the seminar and workshop formats that are key to collegial exchange and refinement of ideas. During the first term, students complete a few short exercises that will culminate in a fully developed, fifteen-page project proposal, as well as a preliminary draft of one chapter of the senior thesis. The proposal will serve as the guide for completing the thesis during the spring semester.
The spring semester of the anthropology thesis seminar is a writing-intensive continuation of the fall semester, in which students will have already designed research questions and begun their research, prepared a full thesis proposal that will serve as a guide for the completion of the thesis or comparable senior capstone project, and written a draft of one chapter of the project. Readings in the first semester are geared toward exploring a variety of models of excellent anthropological or ethnographic work. In the second semester, weekly meetings will be devoted to the collaborative refinement of drafts, as well as working through issues of writing (evidence, voice, authority, integration of theory, etc.). All enrolled students are required to present their project at a symposium in the late spring, and the final grade is based primarily on successful completion of the thesis/capstone project. Students who write senior theses are eligible for consideration for departmental honors.
Note: The senior thesis seminar is open to Columbia College and School of General Studies majors in Anthropology only. The course requires the instructor's permission for registration for each semester. Students must have a 3.7 GPA (at least) in the major and a preliminary project concept in order to be considered. Interested students must communicate with the thesis instructors and the DUS in the spring semester before the start of the course. Only those students who have completed the fall semester of the course are allowed to register for the spring semester. 
Permission to enroll is determined by the instructor of the fall semester seminar. Continued enrollment into the spring semester is contingent upon successful completion of the first semester requirements, as well as an assessment by the instructor as to whether the student's project has progressed sufficiently to be completed in the spring semester. If the determination is that that project has not developed sufficiently as a thesis, the student will exit the seminar after one semester, with a grade based on the work completed during the fall term. 
Enrollment in the course is limited to fifteen students.