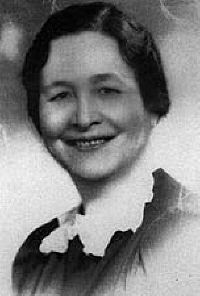 The Ella Deloria Fellowship
Application Deadline: 4:00pm, TBA
Please find a PDF of the fellowship announcement here.
The Department of Anthropology is pleased to announce the Ella Deloria Undergraduate Research Fellowships: departmentally funded anthropological research fellowships for Columbia Anthropology majors pursuing fieldwork during the summer between their junior and senior years.  Offered since 2010, the fellowships are intended for research in preparation for writing a senior thesis or in connection with an independent study project.  Awards will be made based on the quality of an applicant's proposal as well as an applicant's preparation for the proposed research.  Award resources permit fellowships of up to $1000 to approximately ten Anthropology juniors.
While the Ella Deloria Undergraduate Research Fellowship program is designed to support research among Columbia Anthropology majors, it is intended as well as a way of honoring the memory of Ella Cara Deloria (1889-1971), member of a prominent Sioux family, a graduate of Columbia University (B.A. in education, 1914), one of the first truly bilingual, bicultural figures in American anthropology, and an extraordinary scholar, teacher, and spirit who pursued her own work and commitments under notoriously adverse conditions.  At one point, she lived out of a car while collecting material for Franz Boas.  Her publications include the definitive linguistic works Dakota Texts (1932) and Dakota Grammar (1941); the ethnographic classic on Dakota culture, Speaking of Indians (1944); and the virtually avant-garde Waterlily (begun in the 1940s), a novel/ethnography which pushed the boundaries of academic writing:  an "unself-conscious and never precious or quaint pairing of scholarship and fiction" (Kirkus Reviews).  It is to Ella Deloria's spirit that the Department of Anthropology's undergraduate research fellowship program is dedicated.
How to Apply:
Applicants should submit a proposal articulating the following: 1) the purpose of the project and your understanding of its anthropological significance (What makes this project so compelling?); 2) the particular skills, experience, and studies the applicant brings to the project (How have you prepared for this project and what literature do you draw on?); and 3) a detailed description of exactly how the project will be carried out (What sorts of questions will be asked? What is the project's specific focus? Where is the project site and what is its timing?).  The proposal should include a project title as well as a brief budget. The complete proposal should be no longer, than four double-spaced pages. One copy of the proposal should be submitted by email to Marilyn Astwood at [email protected].  Deadline: 4:00pm, TBA
Questions concerning this research fellowship may be addressed to the Director of Undergraduate Studies in the Department of Anthropology:
Professor Naor Ben-Yehoyada; 470 Schermerhorn Extension; 212-854-8936; [email protected]
The Robert Stigler Fund for Archaeological Fieldwork
Research Scholarship
Application Deadline: TBA (Applications are due each spring, most often in mid-April. This page will be updated when the 2023 date becomes available.)
Each spring, the Columbia University Department of Anthropology accepts applications for the Robert Stigler Fund for Archaeological Fieldwork. This scholarship is intended to help cover the costs of summer fieldwork. All full-time students at Columbia and Barnard, both undergraduate and graduate, are eligible to apply, excepting those students who will graduate before their proposed field season. Preference will be given to students majoring in Archaeology and Anthropology, but students in other related fields (e.g., Art History and Archaeology, Classics) may also apply. Awards typically range from $300–$1,000, depending on the needs of the student. The Department anticipates being able to support eight to ten students, depending on the available funding.
Award Rules
Awards are most often given for travel costs to archaeological field locations. On occasion, some per diem costs may be covered, as well as incidental supplies (e.g. trowels, brushes, paper, gloves).  The award may not be used to pay the costs of tuition or room and board at a field school.
Announcement of Awards
The amount of money available for grants in the Stigler Fund varies from year to year, as it is derived from a bequest. The Department will announce award recipients as soon as the amount of the annual award is determined; this is typically in May.
Procedures and Accounting
The amount of the award is deposited into students' accounts except when other arrangements are made.  Upon returning from the field, students must provide receipts and any other relevant back-up documentation via email to Jeanne Roche, DAAF for the Department of Anthropology. Receipts must be in the name of the recipient. If a student requires funds to be provided via another method (e.g., reimbursement), that should be discussed with Jeanne Roche.
How to Apply:
The application must contain the following:
Title page, with full name, UNI, program (major and school), email address, mailing address, phone number, title of project, and research location.
A three to four page description of the proposed fieldwork, including the nature of the project or field school and how participating in the project will contribute to the student's education
An itemized budget
An up-to-date transcript
The names of two faculty at Columbia University who can be contacted for a recommendation
More information on the application process will be available in early spring.
Columbia Division of Student Affairs Fellowship
The Columbia Division of Student Affairs provides various fellowship opportunities to undergraduate students.  To learn more, visit the Undergraduate Research and Fellowship webpage, by clicking here.
Columbia College Senior Thesis Funding
Columbia College provides a small research fund to Columbia College students conducting approved research for their senior theses. The average amount awarded is no greater than $250 and, if special permission is given, will not exceed $500. All funds are provided on a reimbursement basis. For more information and on how to apply, click here.
Columbia School of General Studies Senior Thesis Stipend
The School of General Studies offers a small stipend ($250) to defray associated expenses for GS seniors working on a senior thesis or honors project. For more information and on how to apply, click here.