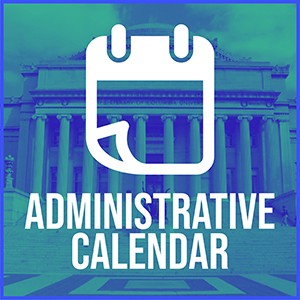 The administrative calendar is organized by tabs, with the following categories: 1) academic calendars (dates that apply to the university as a whole), on a semester basis; 2) Department and program-specific dates, such as deadlines for submission of doctoral committee reports, exam dates, deadlines for department funding applications, and deadlines for application to obtain degrees; and 3) finance-related dates and deadlines, such as final submission of receipts for the fiscal year, and so forth. Questions about the administrative calendar should be directed to the DAAF, Jeanne N. Roche, or to the person in charge of the relevant office (Renee Tenenbaum, for financial matters, and program directors for academic matters).
CALENDARS
ACADEMIC CALENDAR FALL 2021
ACADEMIC CALENDAR SPRING 2022
DEPARTMENT AND PROGRAM SPECIFIC CALENDAR 2021-2022
NB: The final authority on deadlines and due dates within the Graduate School of Arts and Sciences lies with the GSAS. Please check the GSAS webpage for specific times (for example, application deadlines are often at 4:00pm on the stated date).
FINANCIAL CALENDAR 2021-2022