The Franz Boas Seminars have long been the flag-ship lecture series of the department, hosting renowned scholars and providing a venue for intense conversation about the state of the art of anthropology, its theoretical stakes and its ethnographic explorations. The Boas seminar, in this pandemic year is for us, by us. Every one of our sessions includes a faculty host, a guest with whom they are in ongoing conversation, and in many cases the participation of one of our community's graduate members. You are welcome to attend the lectures, and to explore past events here. A record of seminars in prior years may be accessed here.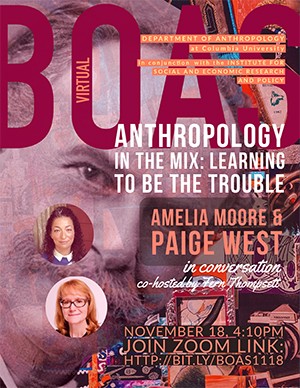 NOVEMBER 18, 2020
ANTHROPOLOGY IN THE MIX: LEARNING TO BE THE TROUBLE
Amelia Moore in conversation with Paige West, moderated by Fern Thompsett
Dr. Amelia Moore is an Associate Professor of Marine Affairs in the College of Environment and Life Sciences at the University of Rhode Island. She earned her Ph.D. in Sociocultural Anthropology from the University of California Berkeley and her B.A. in Environmental Biology from Columbia University. Amelia's research includes the social study of evolving marine conservation policy, (un)sustainable tourism, and environmental adaptations concerning infrastructure and development in island and coastal areas. Her work hinges on feminist science and technology studies, black feminist theory, decolonial scholarship, and justice work.  She has been studying the intersections between conservation science and the tourism industry in The Bahamas for over a decade, and she has more recently begun studies concerning the social effects of coral restoration projects in Indonesia and the relationship between offshore wind development and public memory in New England.
October 28, 2020
UNPAYABLE DEBT
Denise Ferreira da Silva in conversation with Elizabeth A. Povinelli moderated by Chazelle Rhoden
An academic and practicing artist, Dr. Denise Ferreira da Silva's work addresses the ethico-political challenges of the global present. She is the author of Toward a Global Idea of Race (University of Minnesota Press, 2007), A Dívida Impagavel (Oficina da Imaginaçāo Política and Living Commons, 2019), Unpayable Debt (Stenberg/MIT Press, forthcoming) and co-editor (with Paula Chakravartty) of Race, Empire, and the Crisis of the Subprime (Johns Hopkins University Press, 2013). Her several articles have been published in leading interdisciplinary journals, such as Social Text, Theory, Culture & Society, Social Identities, PhiloSOPHIA, Griffith Law Review, Theory & Event, The Black Scholar, to name a few. Her artistic works includes the films Serpent Rain (2016) and 4Waters-Deep Implicancy (2018), in collaboration with Arjuna Neuman; and the relational art practices Poethical Readings and Sensing Salon, in collaboration with Valentina Desideri. She has exhibited and lectured at major art venues, such as the Pompidou Center (Paris), Whitechapel Gallery (London, MASP (Sāo Paulo), Guggenheim (New York), and MoMa (New York). She has also written for publications for major art events (Liverpool Biennale, 2017; Sao Paulo Biennale, 2016, Venice Biennale, 2017, and Documenta 14) and published in art venues, such as Canadian Art, Texte Zur Kunst, and E-Flux. 
Texts and Contexts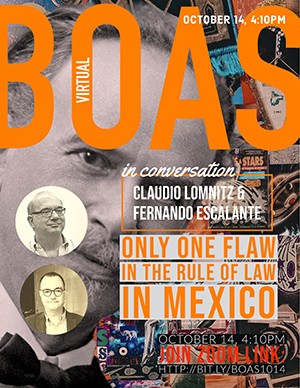 OCTOBER 14, 2020
JUST ONE FLAW IN THE RULE OF LAW IN MEXICO
Fernando Escalante in conversation with Claudio Lomnitz, moderated by Emily Hoffman
Fernando Escalante Gonzalbo is a Mexican sociologist and public intellectual known for his study of nineteenth-century civic culture in Mexico, Imaginary Citizens.  He is the author of over a dozen other books and numerous scholarly articles on political theory, historical sociology, and cultural criticism. Escalante also frequently offers political commentary in the Mexican media.