In 2017, the Department inaugurated the Ruth Benedict Lecture Series. Named after one of the founders of American anthropology and the Columbia Department of Anthropology, the series is inspired by Benedict's passionate engagement with the critical political, aesthetic, and theoretical problems of the twentieth century but places them in the global conditions of the twenty-first. Contributors to the series have critically explored contemporary critical thought in politics and aesthetics, emphasizing one side or another of the couplet, and situated in one or another locality and region. But the scope of the work is capaciously theoretical and determinately international with special emphasis on settler colonial, postcolonial, and capital regimes. We imagine these lectures and associated books as crisp interventions in the discipline, but also statements whose reckoning cuts across the critical humanistic and social sciences. Previous lectures and the associated books may be accessed here.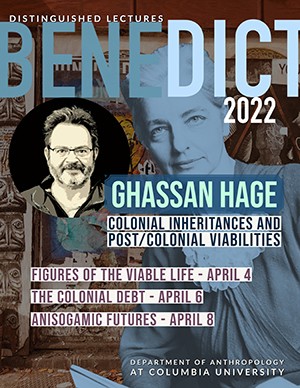 4th Annual Ruth Benedict Lectures
Professor Ghassan Hage, Futures Generation Professor at Melbourne University
"Colonial Inheritances and Post/Colonial Viabilities"
April 4 - "Figures of the Viable Life"
April 6 - "The Colonial Debt"
April 8th - "Anisogamic Futures"
All lectures will be held from 4-6pm in Sulzberger Parlor, Barnard College.
 
Professor Ghassan J. Hage is the University of Melbourne's Future Generation Professor of Anthropology and Social Theory and a Fellow of the Australian Academy of the Humanities. He is best known for his work on the enduring presence of race in our contemporary world. Hage's earlier work centers on the experience of nationalism, racism and multiculturalism among White Australians. In White Nation: Fantasies of White Supremacy in a Multicultural Society (1998) he explores the desire for a white nation lurking in even the most cherished liberal Western ideals. He has also written on the political dimensions of critical anthropology. Professor Hage's most recent publication, Is Racism an Environmental Threat?, is concerned with the intersection between racism and the ecological crisis. He is currently finishing an ethnographic book on the transnational culture of the Lebanese diaspora.