The Franz Boas Seminars have long been the flag-ship lecture series of the department, hosting renowned scholars and providing a venue for intense conversation about the state of the art of anthropology, its theoretical stakes and its ethnographic explorations. This year's seminar is especially concerned with questions of race and environment, and with the contributions that anthropology can make to the urgent problems of our contemporaneity. You are welcome to attend the lectures, and to explore past events here. A record of seminars in prior years may be accessed here.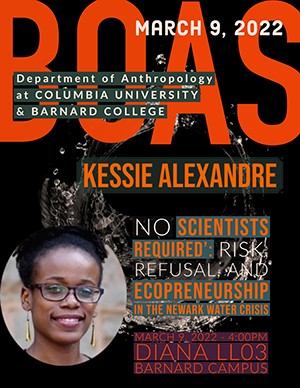 March 9, 2022 - 4:00pm
Diana LL03, Barnard Campus (Zoom Link here)
Kessie Alexandre, Assistant Professor, University of Washington
"No Scientists Required': Risk, Refusal, and Ecopreneurship in the Newark Water Crisis"
Kessie Alexandre's research is organized around questions of public health risk and ethics; environmental racism; climate justice and the social implications of climate change adaptation; Black geographies and diaspora; and the politics and ethics of infrastructure. Alexandre's research has been supported by the Andrew W. Mellon Foundation, the American Council for Learned Societies, the Wenner-Gren Foundation, and the Princeton Environmental Institute and Department of African American Studies at Princeton University. She published recent work in Geoforum and Current Anthropology. 
Her first book project, "Floods and Fountains," is an ethnographic study of water insecurity and civic participation in Newark, New Jersey, which uncovers concurrent processes of racialization and toxification in a period of industrial waterway pollution, climate change vulnerability, and tap water contamination. Looking beyond the Newark Lead Crisis, the project examines how residents have mobilized around unsafe water flows since the Black Power Movement and how water insecurity continues to shape political subjectivities and social relations in the moment of ongoing crisis.
---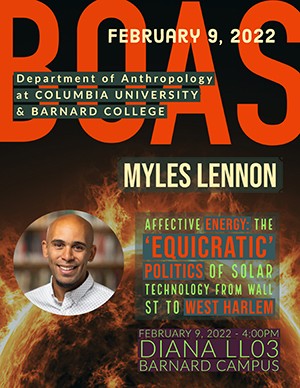 February 9, 2022 - 4:00pm
Myles Lennon, Dean's Assistant Professor of Environment and Society & Anthropology
"Affective Energy: The 'Equicratic' Politics of Solar Technology from Wall St to West Harlem"
Myles Lennon is an environmental anthropologist and a former sustainable energy policy practitioner. His research explores how rooftop solar, "resiliency" microgrids, and other climate mitigation infrastructures simultaneously reinforce and upend entrenched structures of power as they materialize across long-standing race and class divisions in New York City. Lennon's research has been supported by the U.S. National Science Foundation, the Ford Foundation, and the Wenner-Gren Foundation.